An internationally acclaimed conductor, Maestro Minsky is a guest among leading orchestras performing with over 100 different orchestras worldwide, including the Munich Philharmonic, Israel Philharmonic, Orchestre National de France, Berlin Symphony, Bavarian Radio Symphony Orchestra, orchestras in Tokyo, Chicago, Paris, Milan, Rome, Madrid, Barcelona, Berlin, Bonn, Frankfurt, Stuttgart, Basel, Bern, Amsterdam, Warsaw, Budapest, Bucharest and Brussels among others.

During the years he has conducted a wide range of repertoire, which includes over 550 entries of music, and has specialized in the late romantic, German and Central European, repertoire of the 19th and early 20th centuries.

Born in Lodz Poland, Meir Minsky, who holds American, Belgium and Israeli citizenship, was a few months old when his family immigrated to Israel. He is a graduate of the "Rubin Academy of Music" in Jerusalem in conducting and composition, and in 1977 was awarded a diploma from the "Accademia di Santa Cecilia" in Rome after graduating from Maestro Franco Ferrara's prestigious "Corso di Perfezionamento". He participated in conducting master classes at the festivals of Siena and Ravello, at "Teatro La Fenice" in Venice and at the "Hochschule fur Musik" in Cologne (opera conducting). Mr. Minsky has won prizes and awards from the Florence international conducting competition, the Accademia di Santa Cecila, the American Israeli Cultural Foundation, the Ravello festival and others.
With Maestro Franco Ferrara in Rome at the Accademia di Santa Cecila
In 1977 he was one of the founders of the "Sinfonietta de Paris" orchestra, and became its principal conductor. In 1979 he moved to New York and subsequently became Music Director of the "Metropolitan Arts Orchestra" in New York City, a position he held until 1983.


A major turning point in Meir Minsky's career was during the 1983 season when he had his debut in Berlin and conducted the original (1873) version of Bruckner's Symphony No. 3, a first in Berlin. "A magnificent performance" wrote the critic of the Berliner Morgenpost, "Minsky shaped the symphony with grandeur proving himself a sovereign master of the orchestra at all times." Der Tagesspiegel of Berlin wrote, "The orchestra performed with dedication and intensive contact with its conductor.., they gave an interpretation both profound and penetrating.. .The audience in Philharmonic Hall thanked Bruckner. Minsky and the Berlin Symphony Orchestra with thunderous ovations."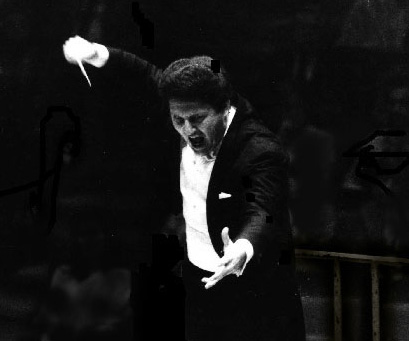 Berlin Philharmonie
When Mr. Minsky returned to Berlin, this time to conduct Beethoven's "Eroica", the headlines of the Berliner Morgenpost read "Jubel urn Meir Minsky's kunst", (Jubilation to Meir Minsky's Artistry) and the headline of the Der Tagesspiegel called it "Powerful Conducting". The critic went on to say, "Once again it became evident that the performance of the symphony orchestra depends strongly on the quality of its conductor. Under the direction of Meir Minsky the orchestra achieved a quality seldom heard until now."

Grant Park, Chicago
In his Chicago debut in the summer of '89, Mr. Minsky "prospered" according to John von Rhein, chief music critic of the Chicago Tribune. "Minsky shaped a lyrically cogent. sensitive account..., notable for its musical integrity. Minsky summoned a solid, expansive sound from the orchestra."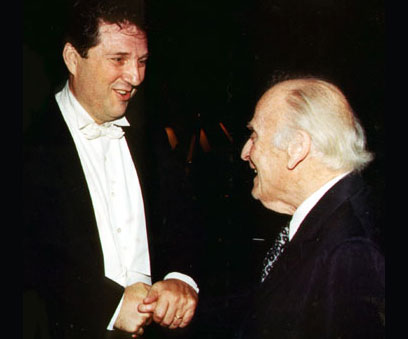 Yehudi Menuhin back stage following Minsky's performance with the Polish National Opera in Warsaw.
In Munich, conducting the Munich Philharmonic Orchestra and Chorus performing Liszt's "Christus" oratorium. The headline of the Süddeutsche Zeitung was, "A Rare Performance", and described Mr. Minsky as, "a conductor who exudes a serene, complete mastery. and possesses a convincing and always clear conducting technique.''
Mr. Minsky has recorded for the labels of "KOCH lnternational", "Marco Polo", "NAXOS", "Leonarda" and "Phaedra".